User experience: magicHat
Amusement park. Today, the Jonsson family is going to Skansen, an open-air historical museum. At the entrance they all rent magicHats. After adjusting their attractive hats, they start the visit. Information about the exact personalized schedule for attractions is delivered almost immediately. The family does not have to stay in line for any of the attractions. Instead they spend their time exploring the museum and they shop for souvenirs. They do not have to worry about splitting up and getting lost. The magicHat informs each family member of the location of the others. If a meeting is needed, the system calculates an optimal spot for a rendezvous and then guides the family members to each other using the built-in vibrators. Holding a camera and taking pictures is a thing of the past. The magicHat camera is automatically recording each family member's experience in the park. Later in the evening, after the magicHat back-end system has integrated their personal records, the family shares in watching – with faraway friends – some of the memorable moments of the day as captured in a multimedia presentation.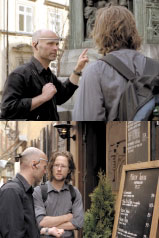 Tourist hat. John and his friend are visiting Stockholm for the weekend. As part of the weekend trip they are offered a guided tour in Gamla stan (the Old Town). To their surprise, the guide will not be a human. Instead, they are offered a great-looking headgear called the magicHat. It is supposed to act as their private traveling companion, as well as a multimedia recorder. They think it sounds cool and they decide to try it. At the tourist centre they receive their hats. Before using them they fill out a preference form. This form lets the system know how to personalize the information. John is interested in architecture, monuments, restaurant offers, famous persons and club events, all details which are recorded by the system. The magicHat will then guide him with nonobtrusive instructions and directions according to the route. While walking in the Old Town they start to receive information.
Each time information is sent out they feel a short vibration in the magicHat. The vibration indicates the direction of the object that the information refers to. When the tour is finished they decide to go back and return the magicHats. After returning the hats they are offered a multimedia CD. The CD contains a digital map of the area of the tour. The exact route they took is traced on the map and small icons indicate where the photos were taken.