aWare: Situation aware mobile system
The aWare concept is rooted in the Telia E-contact research agenda. The idea is to use "wearable thinking" in solving some of the drawbacks of people being physically apart.  It is well-known that people can sustain higher quality collaboration and relationships while being in close proximity, thus being "situation-aware." This situation-awareness rapidly drops as distance increases. A successful situation-aware system will reduce the likeliness of misunderstandings, reduce the time spent on establishing contact ("playing phone tag"), and inspire location-distributed users by creating a greater sense of community (workplace, entertainment place, or home).
We are observing that the criteria for engaging in situation awareness between individuals is based on emotional interpretation of context data such as presence, activity, social company, mood, level of busyness, ambient sound, light and location. These combined metrics usually decide the topic, tone and duration of an interaction. To allow the same rules for engaging in conversations in the virtual world, the aWare system needs to provide similar, life-like context data.
The "aWare messenger," our first implementation of an aWare-based system, achieves these desired data by providing situation-aware communication through generating a sense of presence and emotional status (mood), and by employing location and context-awareness capabilities. Conceptually, the aWare messenger is supporting community interaction and sense of belonging by providing information on group members' presence, mood, and activity. aWare is both a concept and a rich research agenda for topics such as mood capturing, user experience acceptance, and privacy.
magicHat: mobile interaction and annotation of the physical and social space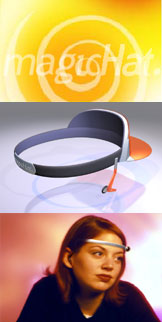 The magicHat is based on the concept of deconstructing the mobile phone and enhancing it with a minimum of components (a Global Positioning System, a digital compass and miniature vibrators for navigation directions) with the goal of exploring the mobile interaction/annotation of physical and social spaces. The form factor chosen is a  headgear capable of coexisting within a hat.
Since we are using hats as a form of self-expression, or to identify ourselves as part of a group, we advance that the hat is the right metaphor for the form factor. Relevant examples of this form of self-expression are plentiful; sports arenas abound with unifying team logos or colors, and groups of tourists often try to keep together using elements of fashion for identification.
It is generally hard to dynamically annotate physical and social space in a way that enables the individual to create a traceable memory record. Our wearable computer is built around the notion of providing useful just-in-time information as well as a mechanism for recording social events. 
We choose the hat metaphor for practical reasons. The hat is fixed on the head, which correlates with the user's view. This way, we can provide an implicit pointing mechanism for space annotation and delivery of just-in-time contextual information.