User experience: aWare.
In order to illustrate user experience with the aWare messenger three scenarios are outlined. While the aWare messenger's current functionality is limited, we illustrate the power of the concept of situation-awareness between members of a community of interest. We are envisioning additional scenarios with future aWare capabilities that are part of the solution for major societal problems such as health care and the aging population.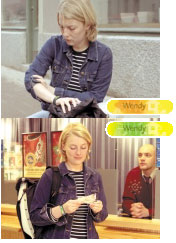 Reminder. On her way home from the University, Cathy is wondering how much time she has before the next bus leaves. Sitting down to look for the timetable on her aWare messenger, she sees that her friend Wendy changed from sick mood to happy mood. She remembers that she agreed to go with Wendy to the movies if Wendy's cold got better. The next bus leaves in 18 minutes; she has just enough time to buy the tickets before the bus leaves.
Question. Mike is in his car on his way to a client. Having worked with a large construction project for almost two years, he is about to take on a new project. However, he cannot fully let go of all the details of the old project. Seeing that his colleague John is on the construction site, he remembers that they have to check the cabling on the south wall again. The aWare messenger's situation-awareness evaluator indicates that John is following up on some changes that they have previously agreed upon. The situation-awareness evaluator indicated that John is busy but available for Mike only. He gently touches John's name on the aWare messenger and dictates a question, asking John to check the cabling. A few minutes later, John's name flashes and Mike gets the message: "The cabling is ok Mike; see you tomorrow!".

Cue. Lisa has a dilemma. Having started to write the thinkWearable; ad it has become clear that she needs Tom's expertise to write it. Tom, one of the best copywriters in the company, is already experiencing a heavy workload. The only solution is to convince him to let go of some of the more interesting, but easier, assignments to take on the tedious work that needs to be done. A few hours ago Lisa's aWare messenger indicated that he was both very busy and in a terrible mood – the reddish background and the pointy and aggressive animation that surrounded his name made that very clear. However, he seems to have had a great lunch, because since then the aWare messenger has indicated
that he is in a good mood and fully available to anyone who needs to disturb him. This might be a great opportunity for Lisa to try to convince him to take on the task.